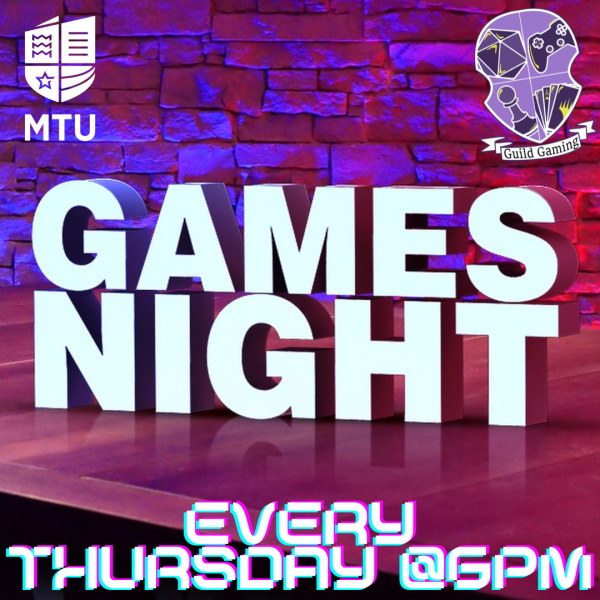 Guild Gaming
Here at the Guild Gaming Society, we share our nerdy love for all kinds of games: from classic board games to TTRPGs. From video games to Trading Card Games. There is absolutely something for every game enthusiast at our society. The only thing cooler then our games - are the people who play them!
We are primarily located in the Bishopstown Campus (and now expanded to Crawford) and meet weekly for games night.
We host themed nights where we shine a light on a certain games, but you are always free to come and play whatever games we have available in our storage (and we have A LOT).

We have classic board games, like Monopoly and chess, but also some of the coolest board games around for proper board game enthusiast, such as "Betrayal at the House on the Hill" and "Rising Sun".
We also have a wide video game selection, with consoles and TVs to play them on (many of our members even bring in their own games to play with their friends).
We also love TTRPGs - if you are a fan of Dungeons and Dragons and/or watch any TTRPG shows like Critical Role or Dimension 20, you come to the right place to try and find people to learn and play with you!
Games of all kind can be a fantastic social outlet for you to make friends, and we hope that you swing by, join and play some games with us!
Achievements
CIT Society of the Year - 2017
BICS Best Society (Academic/Cultural/Social) - 2017
Most Versatile Society Award 2021

Meetings
We meet every Thursday in the Common Room in Bishopstown Campus, as well as host other events outside of that time (so keep an eye on our socials).
We also meet weekly at Crawford for our members in Crawford and Cork School of Music - so follow our socials to keep an eye on scheduling.