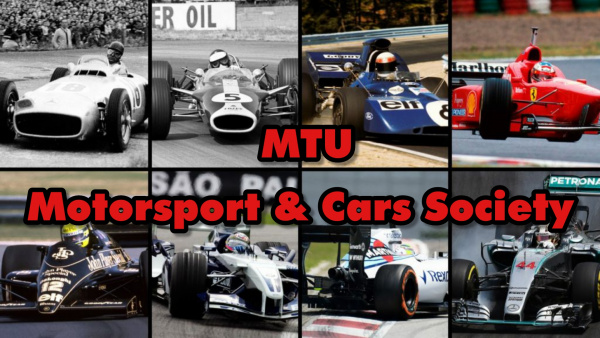 Motorsports and Cars
A society with a big heart for all things vehicles, such as watching historic (and modern) races, documentation and discussion of historic cars, discussion of building / buying / selling cars visiting motorsport related events across Ireland, and hosting virtual simraces online.
For people who love the smell of burning rubber the, the roar of an engine, or perhaps they enjoy getting covered in stains of oil tinkering away at parts in the garage, or even channeling your inner race driver - either on a virtual or real racetrack. Maybe you even like things that go on 3, 2 or even 1 wheel! Anyone who loves a mechanical object that gets you from A to B as fast as possible. 
Here in our society you'll be able to meet and discuss with like minded people, get outdoors to watch racecars in the flesh and even obtain memorabilia, or go wheel to wheel with your friends in virtual racecars, both past and present!
Join today! 
History
Founded by - Matthew Sibanyoni (29/10/2021)
The society has been currently active for one year. 
Matthew Sibanyoni is in his second term as Chairman.
Cathal O'Donovan is in his first term as newly elected Deputy Chairman.
Honored Former Staff
====
Kara Kennedy, Social Media, PR Management and Advisor to the Chair (29/10/2021 - 17/10/2022)
Achievements
   Born in 29/10/2021!
1 year of active operations! 
Meetings
Wednesdays at 6pm-7pm (When scheduled).
Contact Us
Chairperson - matthew.sibanyoni@mycit.ie
Deputy Chairperson and Management - cathal.odonovan2@mycit.ie
Organisation Email - motorsports@citsocieties.ie