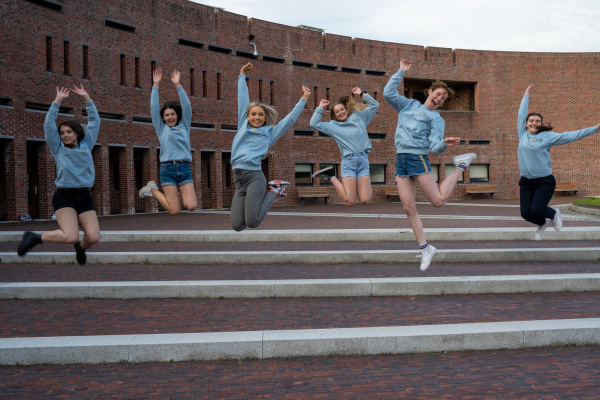 WiSTEM
MTU Cork WiSTEM Society brings together women studying STEM (Science, Technology, Engineering and Maths) courses in MTU.
Being a member of this society will open a whole world of opportunity; from making friends and networking with other STEM students, to invaluable insight and tips into industries and future careers. We host various types of events such as social meetings, industry-led webinars, and interactive panels talks on various subjects.

WiSTEM has collaborated with numerous companies in just over a year: DePuy Synthes, Janssen Pharmaceuticals, Pfizer, MSD Brinny, and Stryker to list a few. We have held social events, from pizza nights last year to Zoom quizzes this year. We have also attended and assisted with a number of CIT initiatives, such as the IWISH campus week for Transition year girls, International Women's day events, and 'CIT Entrepreneur of the Year' competition.
WiSTEM is always looking for new members who want to network and make friends, while also expanding their skill set and knowledge of the wide range of jobs that they can pursue. If this sounds like something you would be interested in, join WiSTEM today and become a member of our growing community! All MTU full-time students are welcome to join the society.

Our society aims:
- Bring together female Science, Technology, Engineering and Mathematics Sectors students allowing them to make friends and network.
- Provide female STEM students the skills to succeed in both college and in working life.
- Allow female STEM students to explore different career prospects both by listening to guest speakers and visiting industries.
- Educate & Inspire post-primary students to consider careers in STEM and achieve their full potential

History
MTU Cork WiSTEM Society (formerly WiSTEM CIT) was founded in November 2019. It was set up with the aim to bring together women studying STEM (Science, Technology, Engineering and Maths) courses and to help them succeed both in college and in the working world. It is hoped to be a platform for women in STEM to meet other like-minded students in various STEM courses, some of which can be very male-dominated.
Achievements
Awards:
BICS 2022 Winners: Best Cultural & Civic Society
MTU 2022 Winners: Risam Uile
BICS 2021 Winners: Best New Society
MTU 2021 Winners: Best New Society

Meetings
There are lots of plans in the works for the 2022/23 year, so keep an eye out! We will be hosting more social events online, as well as multi-company events discussing various topics, from technology to the environment.
Throughout the academic year, our society will be hosting numerous virtual educational events to help students in the STEM field. These incorporate talks and workshops in collaboration with motivational speakers with a range of industrial experiences.

Contact Us
Contact us by email: wistemcork@mtusocieties.ie

Or by social media:
Instagram: mtucorkwistem 
Twitter: MTUCorkWiSTEM 
Facebook: MTUCorkWiSTEM 
LinkedIn: MTU Cork WiSTEM Society 
Looking forward to meeting everyone in our growing society!
#MTU #wistem #MTUsocieties